Astrology Readings
I like to call my readings, "Coffee with an Astrologer" because I want my readings to feel more like a conversation with a friend than anything else. We'll go over your chart or charts, and discuss any questions you have.
In my readings, I find it best not to limit myself or clients to all the possibilities that we may come across in readings. In my readings you can find a mix of the following techniques:
Natal chart readings
Transits
Progressions
Solar & Planetary Returns
Solar Arcs
and Astrocartography readings
For this reason, I don't distinguish between different readings (i.e. solely natal chart readings, etc). We do what works best for you, based on the questions asked. My readings will often feature a mix of techniques, but if you want something specific covered, that's okay too! Just let me know in the form.
So sit down, grab a coffee, and let's talk astrology!
I also offer written readings. These readings are handwritten, and we go over any questions you have, similar to a video reading. I use pretty much the same techniques. These reports may take a few days or weeks to get back to you, depending on how booked I am. This astrology reading is pay-what-you-can, and has no word or page limit.
---
Reviews & Testimonials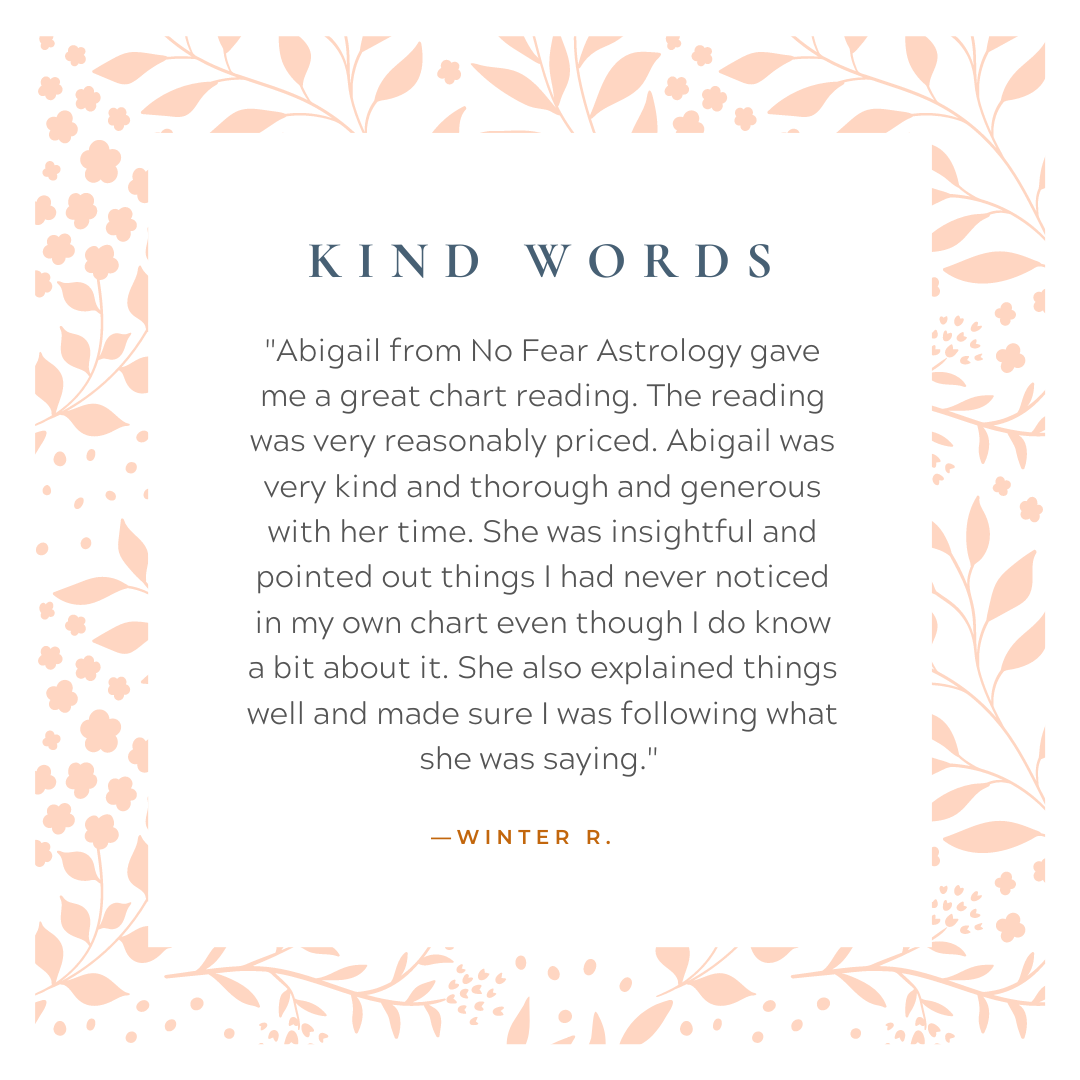 ---
FAQ
How much are readings?
Video readings are $100 for an hour. You will not be charged for any time taken past this, but a kind review or tip is always appreciated.
Written readings (or reports) are pay-what-you-can. These reports often take a few days to a few weeks to complete, depending on how booked I am. They are all handwritten and may take some time for me to complete. They do not have a page or word count, as I just type what I see and provide my interpretation.
What can I expect after booking?
For video readings, you will be prompted to select a date and time that works for you. If no time that works for you is listed, please contact me and we will find a time that works for you. You will also be prompted to fill out a form with your date of birth, birth place, and birth time, as well as any questions you may have. You will then be prompted to pay at the end, and sent an email with the Google Meet link. :)
Written readings will have you fill out a form with your email, date of birth, time of birth, and location of birth, as well as a way for you to ask any questions you would like me to look into. You will be prompted to pay what you can at the end.
What are some things you don't cover in readings?
I do not cover topics regarding death, sickness, or children's charts. Please do not ask. I cover synastry and composite on a case-by-case basis.
What if I need to reschedule?
No worries! I'm happy to reschedule at a time that works for you. Just email me and let me know. You will not be charged to reschedule.
Do you offer refunds?
If you have not yet received your reading, and wish to cancel, yes, I can provide a refund. Please try to let me know 24 hours in advance. If you do not show, then I cannot provide a refund.
If you have already received your reading, I unfortunately cannot give you. refund.
Do you offer retainers?
Yes. Retainers can either be video sessions (done weekly, monthly, or yearly at a discounted rate), or written readings. For example, we can do weekly video readings. Or we can do a written reading of your transits and lunar returns for the month. Whatever you want, I can work with you to accommodate your needs and goals. Please contact me for details. Retainers are offered at a discounted rate.
What if I have more questions?
No prob! Send me an email through the contact form and ask me! I'll get back to you when I can.